Linking up with Things I can't say
For more "Pour your heart out" posts click the button below
After you read what I pour out of my heart of course ;)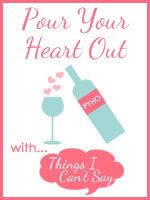 Hello my name is Rose and I am afraid of dogs.
When I was little this was one of my most embarrassing secrets.
I didn't want anyone to know, so I would claim allergies to dogs.
Most people won't try to
force their dog on you if you are allergic.
If you tell them dogs make you nervous/scared, their response will almost always be,
"Well he/she is a really nice dog, you don't need to worry."
Seriously, everytime!
I have only one time heard someone have a different response and it was,
"don't worry we keep our dogs locked up when visitors come"
Deep sigh of relief on my part.
lol!
Although.
Keeping them locked up just meant shutting them behind their bedroom door.
The door wasn't actually locked.
I came to find this out during a recent visit when Lyon (Curious Lyon)
needed to see what was behind door # 1.
Ohhh, I had nightmares for a week after that!
Here is what happened:
My family and I were visiting some friends (the awesome ones mentioned above).
Everything was fine, conversation was good, kids were playing, when suddenly,
Lyon goes for the door, the one which kept the dogs out of my sight and mind.
I sat on the floor only a few feet away.
I don't know why I didn't think Lyon could open the door, but then the Lady of the house informed me that the door was not locked.
Panic rose up inside me like an unannounced tidal wave,
picking me up in its mass and swallowing me whole.
It was just like in my bad dreams, I couldn't move fast enough.
My legs and arms heavy and disabled.
I moved slowly to try to stop Lyon before he let the dogs out, but I just couldn't get there.
And then they were upon us.
My nightmares consisted of sharp barred teeth, ferocious barking and then the attack.
I always wake up before there is any blood shed,
breathless, my heart pounding, with a ringing in my ears.
That didn't happen in real life.
The dogs, two of them, ran right past Lyon who was quite stunned and thus crying.
They ran right past me, trying to get to Lyon so I could let him know it was all okay.
Though my own heart was pounding hard enough to let him know
that I clearly did not think it was okay.
It was over in a few seconds, all was well, we weren't attacked.
And yet.
I am sitting here in a cold sweat, my mouth dry, reliving it.
I know its ridiculous, as most fears are.
I can't seem to help it though.
I once decided I was going to get past it. I was going to take responsibility for my Mom's dogs while she was out of town, I was going to feed them and walk them and my Mom would come home to the happiest dogs in the world. Well the first time I went to feed them they were ravenous because the person who was supposed to be watching them had forgotten to feed them (which is why I took over) the dogs jumped and growled and groaned, I nearly had a heart attack. Finally having no other choice I tossed the dog food into their pen until I was certain they had had enough.
Imagine tossing meat to crocodiles!
That's what it felt like to me.
Talking about my fear helps though.
I don't feel nearly as anxious as I do when I am lying about it.
Now if only the truth could just set me free from this fear,